Juried Art Show
August 20, 2020 @ 2:30 pm

-

October 31, 2020 @ 5:30 pm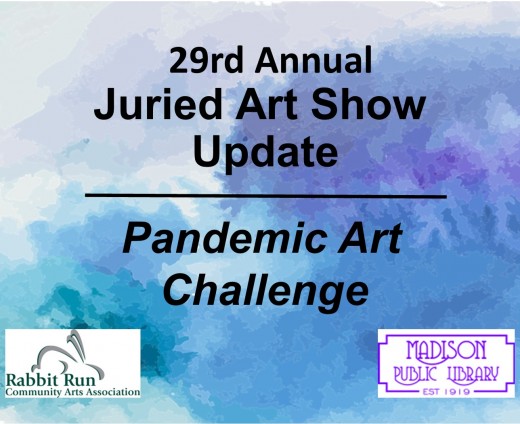 29th Annual Juried Art Show Update/Pandemic Art Challenges
For twenty-nine years RRCAA in cooperation with the Madison Public Library has proudly sponsored this adjudicated event showcasing the art work of some of Northeast Ohio's most talented visual artists.  Due to the COVID-19 pandemic, the 29th Annual Juried Art Show is postponed until April, 2021.
In its place, this year, we are pleased to sponsor with the Madison Public Library  Pandemic Art Challenges during the month of October, 2020.  Artists (high school age through adults) may accept one or all three challenges with submitted artwork being displayed at the Madison Public Library from October 1 – 28.  These Pandemic Art Challenges are a great way to relieve stress and express yourself during these uncertain times–you may even win a prize!
The Pandemic Art Challenges Show is up at Madison Public Library through the month of October.
Stop in and vote for your favorite piece of art work and photograph.
PANDEMIC ART CHALLENGES
Shelter in place sculpture
Using only items found at home, create a sculpture which symbolizes your "shelter in place" experience.  Or symbolizes your feelings of isolation…or freedom from work clothes…
Quarantine Pop Art
This type of art is called pop art and it began in the 1950s. Pop art is a style of art based on simple, bold images of everyday items, such as soup cans, painted in bright colors. Pop artists created pictures of consumer product labels and packaging, photos of celebrities, comic strips, and animals, etc.
Your challenge…create a pop art piece inspired by the 2020 quarantine.  What image best embodies the challenges we are experiencing?  Use any medium.
Outside my Window
Look out the window of your home or any dwelling which has an interesting view exemplifying your shelter-in-place experience or even your favorite view out of any window.
Use the entire surface
Include interior design of window for example frame, curtains or blinds
Include view outside of the window
Must be 2-dimensional, any medium
Write a description on back listing what window inspired you and why.
Entry forms and art work are being accepted at the library from Sept. 16 – 22 during regular library hours.
For an entry form click here.