SUPPORT
2023 Annual Campaign
Transformation--The Power of the Arts
Once you have joined us for a music lesson or a dance class, or taken in a theatre production at the barn, you have experienced the transformative power of the arts.
For each of us the arts can plant the seeds for transformation. Through the arts we are able to build a stronger sense of ourselves, exploring possibility and potential.
The arts can heal and sustain us throughout life, urging us to share and reflect, creating a safe space that allows us to trust and be open to change.
We believe in the transformative power of the arts. This last year has certainly been one of transformation for RRCAA. We have embraced our potential for change, nurturing new ideas, diverse viewpoints, and opportunities for growth.
We encourage you to celebrate the transformative power of the arts in your own life.
When you make a financial gift to RRCAA, you are helping to provide the extraordinary theatre productions and quality arts instruction that so greatly impact our community.
The Betty Jean Green Scholarship Fund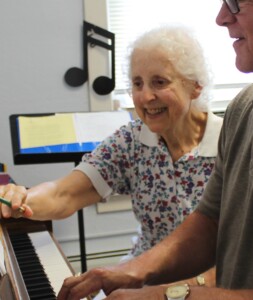 B. J. Green recently retired from her position as Dean of Faculty and private music instruction at RRCAA. She was instrumental in the establishment and incorporation of the Western Reserve Fine Arts Association dating back to 1979. In 2000, WRFAA unified with The Friends of Rabbit Run Theater. B. J. served as the first board president of the newly established organization now known as RRCAA.
In the late 1970's she also founded and directed the Madison Chorale. The Chorale performs throughout the year at public and private functions. B. J. directed the Chorale for over 40 years.
In her honor the Betty Jean Green Scholarship Fund has been established.  This scholarship fund will allow for needs-based financial support for students studying the arts at RRCAA.
All donations to the Betty Jean Green Scholarship Fund are tax-deductible.