SUPPORT
2022 Annual Campaign
Grateful . . . and embracing the future
We have so much to be grateful for!  With your help RRCAA has persevered, despite the continued uncertainty in our world, with hope for the future and the expectation of exciting new beginnings.
The response to our fall arts instruction and the promise of next summer's theater season has us bursting with excitement.  And that excitement is reinforced with the certainty that together we can shoulder whatever new challenges might come our way.
We are embracing our future and exploring new educational and entertainment possibilities, all very different than what has been offered in the past.
The Rabbit Run family:  Once you have joined us for a music lesson or dance class, picked up a paint brush for a canvas art workshop, or taken in a theatre production at the barn, you are a member of the Rabbit Run family.
And each time you make a financial gift to RRCAA, you are joining your other family members in helping to provide extraordinary theatre productions and quality arts instruction throughout the year.  Now, more than ever the support of our Rabbit Run family is essential to our continued success.
As always, we are grateful for your interest and support.
The Betty Jean Green Scholarship Fund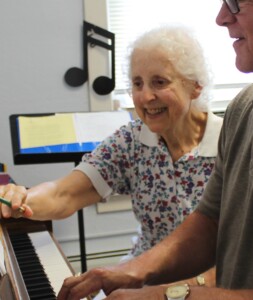 B. J. Green recently retired from her position as Dean of Faculty and private music instruction at RRCAA. She was instrumental in the establishment and incorporation of the Western Reserve Fine Arts Association dating back to 1979. In 2000, WRFAA unified with The Friends of Rabbit Run Theater. B. J. served as the first board president of the newly established organization now known as RRCAA.
In the late 1970's she also founded and directed the Madison Chorale. The Chorale performs throughout the year at public and private functions. B. J. directed the Chorale for over 40 years.
In her honor the Betty Jean Green Scholarship Fund has been established.  This scholarship fund will allow for needs-based financial support for students studying the arts at RRCAA.
All donations to the Betty Jean Green Scholarship Fund are tax-deductible.