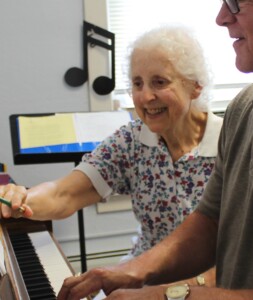 The Betty Jean Green Scholarship Fund
Mrs. B. J. Green recently retired from her position as Dean of Faculty and private music instruction at RRCAA. She was instrumental in the establishment and incorporation of the Western Reserve Fine Arts Association dating back to 1979.
In 2000, WRFAA unified with The Friends of Rabbit Run Theater. B. J. served as the first board president of the newly established organization now known as RRCAA.

In the late 1970's she also founded and directed the Madison Chorale. The Chorale performs throughout the year at public and private functions. B. J. directed the Chorale for over 40 years.
In her honor the Betty Jean Green Scholarship Fund has been established. This scholarship fund will allow for needs-based financial support for students studying the arts at RRCAA.
All donations to the Betty Jean Green Scholarship Fund are tax-deductible.