Evenings at the Barn
July 23, 2020 @ 6:00 pm

-

September 3, 2020 @ 10:00 pm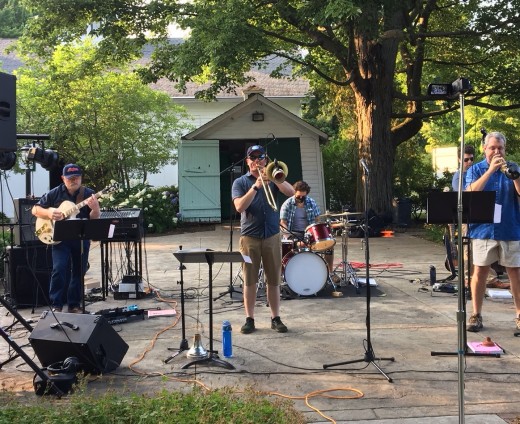 While we are not able to produce live performances at Rabbit Run Theater this summer due to COVID-19 restrictions, we are delighted to offer a number of LIVE concerts at the barn throughout the summer. Best of all, these concerts are free of charge! What could be better than a lovely evening at the barn with your favorite people enjoying great music!
Providing the music for these concerts are local favorites Madtown Jazz and The Alibis. To hear a sample of each band's music, click on the links below:
https://www.facebook.com/MadtownJazz/videos/161865235153053/
https://www.facebook.com/thealibiscleveland/videos/454455992043729/
Just a note, you may recognize some members of Madtown Jazz as Jim and Erica Slike, John Koch and John Mullen have all performed both in our orchestra pits as well as onstage at Rabbit Run.
One last concert has been added for Thurs., Sept. 10 with Paul Hagan.  Paul has been performing acoustic guitar on all different stages for many years.  His wide repertoire of music ranges from the Temptations to Train, the Everly Brothers to Ed Sheeran and Joni Mitchel to Jason Mraz.
The Paul Hagan concert is from 6:00 – 7:30 p.m.; grounds are open from 5:00 – 8:00 p.m.
Summer Live Concert Schedule
July 9 – Madtown Jazz
July 23 – The Alibis
Aug. 6 – Madtown Jazz
Aug. 20 – The Alibis
Sept. 10 – Paul Hagan  Added Concert!
Utilizing state-recommended social distancing practices, we are able to allow a maximum of 120 people to each event. Guests are welcome to
bring their own food.*
Due to limited capacity, Reservations MUST BE made for these live concerts.
Please call the office at 440-425-5913 between noon – 3:00 pm Monday through Friday to make a table reservation. We have 20 tables available that seat six people each. All reservations are on a first-come-first-served basis.
*These concerts are outside and not in the barn. Grounds open from 6 – 10 p.m. Concert from 6:30 – 9:30 p.m. Masks are strongly recommended to be worn when not seated at table. Hand sanitizing stations located in convenient areas throughout the grounds One person allowed in restrooms at a time.