Big Ben and a Bunch of Prizes Raffle
May 4 @ 8:00 am

-

October 10 @ 5:00 pm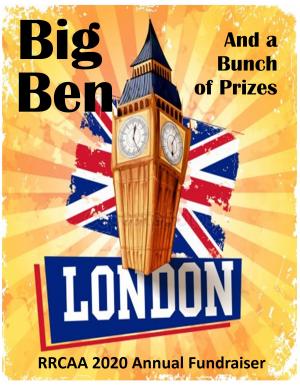 Big Ben and a Bunch of Prizes Raffle
WINNERS ARE LISTED BELOW
CONGRATULATIONS TO KENT JOHNSON FOR BEING THE GRAND PRIZE WINNER!
Thank you so much, everyone for participating in the Big Ben Raffle

Once again we are combining our annual fundraiser with the destination raffle for one spectacular raffle!

Big Ben and a Bunch of Prizes Raffle offers the chance to win 100 fantastic prizes with each prize worth at least $50 and most worth more.  Only 500 raffle tickets will be sold.

There is a one-in-five chance of winning a prize!

Plus, everyone has a chance to win the Grand Prize of a London Getaway!
Includes a week-long stay in a two-bedroom flat in a desirable section of London, plus $2,500 for travel expenses OR a $4,000 cash option.  Travel may occur in 2021 or 2022.
Winners will be announced Monday, September 14, 2020.  Winners will be notified by RRCAA.
In addition to the Grand Prize here are some of the other fabulous prizes:
Overnight stay at the beautiful Lodge at Geneva
Tickets to African Safari Wildlife Park
Tickets to Playhouse Square and The Cleveland Playhouse
Wine tasting for 10 at Grand River Cellars Winery
Golf for 4 at Quail Hollow Country Club
Gift card to Lisa Moran Ltd.
Apollo's Fire Tickets
and much, much more!
Your help is needed more than ever to keep the historic Rabbit Run Theater operational once pandemic restrictions are lifted.  Buy your ticket soon!
Because so few tickets are left, they are no longer available online–Please call Rabbit Run at 440-428-5913 to purchase a ticket.
Click here
for official Big Ben and a Bunch of Prizes rules.
AND THE WINNERS ARE:
| | | |
| --- | --- | --- |
| Winner | Prize # | Item Donated |
| 482 – Kent Johnson | 1 | Grand Prize |
| 308 – Mary Lynn Morek | 2 | Quail Hollow Country Club – a foursome of golf |
| 389 – Mary Beth Hayer | 3 | 2 Playhouse Square tickets to the show of the winnner's choice |
| 492 – Chris Ferlinc | 4 | 2 Playhouse Square tickets to the show of the winnner's choice |
| 074 – David Brockett | 5 | Playhouse Square Tickets to Pretty Woman |
| 273 – Julie Schiavoni | 6 | Grand River Cellars – wine tasting for 10 |
| 186 – Jim Alves | 7 | Salt Fork State Park – one night stay |
| 155 – Jonathan Gordon | 8 | Snowtrails Gift Card and 50th Anniversary Cavs Book |
| 111 – Julie Lampe | 9 | African Safari Wildlife Park – VIP passes |
| 192 – Transfer Express | 10 | African Safari Wildlife Park – VIP passes |
| 406 – Harmoni Sauder | 11 | The Lodge at Geneva – an overnight stay |
| 195 – Ernie Beffel | 12 | Lisa Moran scarf and $10 LL Bean gift card |
| 163 – Kim Gdovichin | 13 | RRCAA Season tickets 2021 |
| 077 – Jan Swetel | 14 | Kate Spade purse |
| 440 – Dan Nichols | 15 | Lake Metroparks Basket |
| 447 – Pam Morse | 16 | Monat Hair Care Basket |
| 198 – Anne Beffel | 17 | Amazon – $100 gift card |
| 100 – Tom Linsenmeier | 18 | Lisa Moran – $100 gift certificate |
| 370 – Norma Pepoy | 19 | Sheraton Furniture – $100 gift card |
| 289 – Kay Raymond | 20 | JD Ballantine Wine Basket |
| 376 – Deanna Caudill | 21 | Thermopen cooking thermometer with case and Grilling Cookbook |
| 486 – Kent Johnson | 22 | Thermopen cooking thermometer with case and Grilling Cookbook |
| 202 – Jane Steger | 23 | Thermopen cooking thermometer with case and Grilling Cookbook |
| 337  -Vern Hall/Mary Ann Zima | 24 | Thermoworks remote thermometer with case and Grilling Cookbook |
| 180 – Jessie Higgins | 25 | Maltz Museum – 1 year membership |
| 465 – Cheryl Bailey | 26 | Saratoga Olive Oil Gift Basket |
| 166 – Linda Alponat | 27 | World Wines and Liquor Wine Basket |
| 449 – Greg Gnau | 28 | World Wines and Liquor Wine Basket |
| 086 – Jim Dougherty | 29 | Pampered Chef Salad and Berry Spinner |
| 305 – Madeline Andrews | 30 | Ashtabula Arts Center – 2 tickets to Straw Hat 2021 |
| 134 – Carla Clark | 31 | Gift Cards: Adventure Zone – $16.50, Graeters – $15 and Amazon – $30 |
| 061 – Pam Martin | 32 | Mary Yoder, Pickle Bill's and Firehouse Winery gift cards ($20 each) |
| 479 – Gloria Abbott | 33 | Waring Professional Wine Opener and a World Wines and Liquor $20 gift card |
| 045 – Sharyanne Jacobson | 34 | Insulated serving bowls and a $10 Heinens Gift Card |
| 248 – Roy Smith | 35 | Rock and Roll Hall of Fame – 2 general admission tickets |
| 004 – Rhoda Erdman | 36 | West Orchards Farm Market Basket |
| 222 – Duke Gregory | 37 | Amazon – $50 gift card |
| 345 – Kitty O'Shea | 38 | Amazon – $50 gift card |
| 417 – Sarah Boonstra | 39 | Amazon – $50 gift card |
| 048 – Jenny Dougherty | 40 | Amazon – $50 gift card |
| 078 – Art Stafford | 41 | Amazon – $50 gift card |
| 240 – Michelle Iafelice | 42 | Bistro 70 – $50 gift card |
| 477 – Gloria Abbott | 43 | Amazon – $50 gift card |
| 043 – Sharynne Jacobson | 44 | Amazon – $50 gift card |
| 416 – Sarah Boonstra | 45 | Giant Eagle – $25 gift card and a 50th Anniversary Cavs Book |
| 296 – Rita Antalovich | 46 | Pastina – $50 gift card |
| 361 – Sheila Smith | 47 | Bella Donna Salon and Spa – $50 gift card |
| 187 – Transfer Express | 48 | Bella Donna Salon and Spa – $50 gift card |
| 462 – Janet Verchio | 49 | Bed, Bath and Beyond – $25 gift card & a 50th Anniverary Cavs Book |
| 185 – Jim Alves | 50 | Bistro 70 – $50 gift card |
| 313 – Diane Merrill | 51 | Amazon – $50 gift card |
| 218 – Shannon Kriegmont | 52 | Bistro 70 – $50 gift card |
| 256 – James Kekelis | 53 | Bistro 70 – $50 gift card |
| 288 – Kay Raymond | 54 | Bluestone Perennials – $50 gift card |
| 431 – Jean Denison | 55 | Bluestone Perennials – $50 gift card |
| 082 – Marie Wolph | 56 | Eddie's Grill at GOTL – (2) $25 gift certificates |
| 481 – Jeanette Behm | 57 | Giant Eagle – $50 gift card |
| 300 – Gretchen Burns | 58 | Giant Eagle – $50 gift card |
| 009 – John & Jean Denison | 59 | Hair by Haley Ann – $50 gift card |
| 428 – Jim Dougherty | 60 | Hair by Haley Ann – $50 gift card |
| 356 – Dave VanDusen | 61 | Home Depot – $50 gift card |
| 349 – Jon & Pat Robejsek | 62 | JD Ballantine Flowers & Gifts – $50 gift card |
| 324 – Robin Baum | 63 | J's Pizza Market – $50 gift card |
| 035 – Jane Steger | 64 | J's Pizza Market – $50 gift card |
| 059 – Mark Ziccarelli | 65 | J's Pizza Market – $50 gift card |
| 472 – Christine Semmelroth | 66 | J's Pizza Market – $50 gift card |
| 068 – Robin Baum | 67 | Light fixture with installation and a 50th Anniversary Cavs Book |
| 286 – Emily Stack | 68 | Light fixture with installation and a 50th Anniversary Cavs Book |
| 162 – Kim Gdovichin | 69 | Overstock – $50 gift card |
| 213 – Carley Hosler | 70 | Overstock – $50 gift card |
| 478 – Gloria Abbott | 71 | Painesville Community Improvement Corporation – $50 in gift cards |
| 367 – Mary Jo Verdi | 72 | Painesville Community Improvement Corporation – $50 in gift cards |
| 014 – Judi Sadler | 73 | Pampered Chef – $50 gift card |
| 196 – Richard Boonstra | 74 | Panera – $50 gift card |
| 101 – Tom Linsenmeier | 75 | Panera – $50 gift card |
| 366 – Carolyn Blackwell | 76 | Panera – $50 gift card |
| 067 – Robin Baum | 77 | Panera – $50 gift card |
| 046 – Cheryl Bailey | 78 | Red Lobster – $50 gift card |
| 229 – Roy Smith | 79 | RediGo/North Madison Car Wash  – $50 in gift cards |
| 209 – Mark Binnig | 80 | Ridgewood Kitchen and Spirits – $50 gift card |
| 027 – Bob & Arlene Myotte | 81 | Silver Crest Cellars – $50 gift card |
| 405 – Harmoni Sauder | 82 | Silver Crest Cellars – $50 gift card |
| 297 – Rita Antalovich | 83 | Silver Crest Cellars – $50 gift card |
| 096 – Cecilia Duffy | 84 | Starbucks – $50 gift card |
| 487 – Kent Johnson | 85 | Starbucks – $50 gift card |
| 177 – Nancy & Bob Urbanski | 86 | Subway – $50 gift card |
| 135 – Tricia Gardner | 87 | Target – $50 gift card |
| 232 – Roy Smith | 88 | Target – $50 gift card |
| 093 – Cecilia Duffy | 89 | Top Golf – $50 gift card |
| 179 – Linda Connelly | 90 | Trader Joe's – $50 gift card |
| 331 – Gloria Abbott | 91 | Wayfair – $50 gift card |
| 250 – Roy Smith | 92 | Wayfair – $50 gift card |
| 106 – Gretchen Burns | 93 | West Orchards Farm Market – $50 gift card |
| 108 – Laurie Principe | 94 | World Wines and Liquor – $50 gift card |
| 246 – Roy Smith | 95 | World Wines and Liquor – $50 gift card |
| 260 – Kristy Keeper | 96 | Amazon – $25 gift card and autographed Cleveland Browns picture |
| 375 – Deanna Caudill | 97 | Amazon – $25 gift card and a 50th Anniversary Cavs Book |
| 407 – Lisa Dowling | 98 | Bella Donna Salon and Spa – $50 gift card |
| 298 – Nancy Currie | 99 | Bed, Bath and Beyond – $25 gift card & a 50th Anniverary Cavs Book |
| 394 – Kathleen Wetzl | 100 | Costco – $25 gift card and a 50th Anniversary Cavs Memorial Book |