These kid-friendly, family friendly Vacation Art Workshops are live virtual events planned for days off from school through the winter and spring.  Join RRCAA art instructor Nancy Nelson Brotz as she leads students through step-by-step instructions for creating one-of-a-kind seasonal masterpieces.
Each Vacation Art Workshop consists of two, back-to-back 45-minute sessions.  Students may sign up for one or both sessions.  Each workshop comes with a great art kit with everything you need to complete these ever-so-much-fun workshops.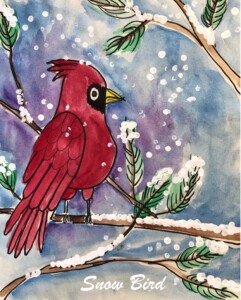 Each workshop if $10, plus a $3 material fee.
For ages 6 – 14
Snow Bird (mixed media on paper) – Mon., Feb. 15; 10:00 – 10:45 a.m.
All it Takes is Love (oil pastels on paper) – Mon., Feb. 15; 11:00 – 11:45 a.m.  (shown at top of page)
To register click here.
Location:  Live virtual learning experience